NEWS // UPCOMING EVENTS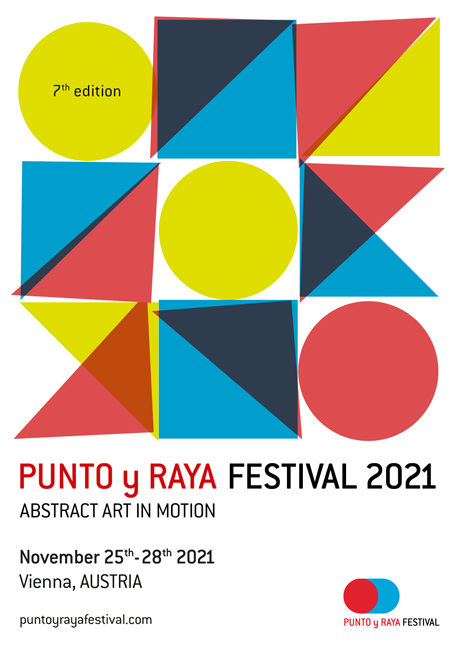 MuKaTo Projects Films @ PyR
https://www.puntoyrayafestival.com/en/fest
___________________________________________________________________________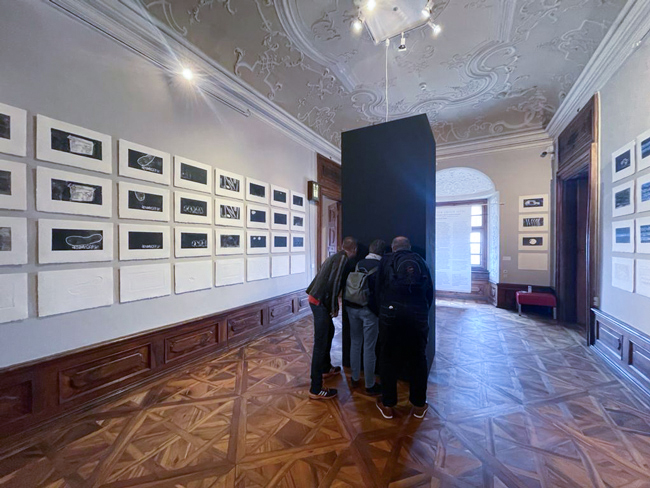 SEEN UNSEEN SCENE
Fine Art Peace Price Exhibition/ St. Leopold Friendenspreis der Bildenden Kunst
https://www.stift-klosterneuburg.at/kunstpreis2020-finale/

still on show until November 2021
exhibition: September 2020 - November 2021
opening hours: 9h–18h
guided tours always on Saturday at 12:00h and 15:00h
___________________________________________________________________________
MuKaTo Projects Films @ Video und Filmtage 2021
7.10-11.10.2021
https://www.videoundfilmtage.at/2021/

Films realized during MuKaTo projects, narrative, abstract and experimental with and to music by Florian Horwath and Wolfgang Schlögl, as well as Maschinenmusik by Paul Skrepek & Andreas Platzer
screening:
>> "Altpapier" (Hegelgasse12) https://www.youtube.com/watch?v=xesdLboM3Ts
>> "The Ocean is for Dreamers" (BORG Henriettenplatz, Musik Florian Horwath und Wolfgang Schlögl) https://www.youtube.com/watch?v=GIDvCZmJokg
>> "Junge sucht Sauberer" (Hegelgasse 12) https://www.youtube.com/watch?v=vMknHlkELeI
>> "Vienna Flow" (Hegelgasse 12) https://www.youtube.com/watch?v=ZocQrOlSlHU
>> "Das Unmögliche Computerspiel" (AKG) https://www.youtube.com/watch?v=EZCNeWc5Xlw
>> "Wir retten die Welt" (AKG) https://www.youtube.com/watch?v=PpRhP3MjPfA
>> "Das Donauweibchen1" (VS Zennerstraße, Kooperation Sprachspiel Biennale West 2020) https://www.youtube.com/watch?v=ECRptYMY4M4
>> "Mad Bianco" - 3 channel projection (BORG Mistelbach, Musik Paul Skrepek & Andreas Platzer) https://www.youtube.com/watch?v=FdxeKQgHJuA
___________________________________________________________________________
MuKaTo Projects Films @ mla Festival
20.10.-22.10.2021
https://www.mediamanual.at
screening:
>> "Altpapier" (Hegelgasse12)
>> "Die Welt ruft: Im Keller" (Webserie, BORG Henriettenplatz)
___________________________________________________________________________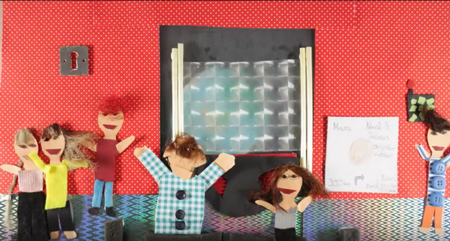 MuKaTo Projects Films @ Young Aniamtion Festival
8.-12.September 2021, Electronic Theatre, Linz
https://ars.electronica.art/newdigitaldeal/de/animation-festival/
screening
>> "Die Zauberkiste" gemacht von SchülerInnen des BRG Hegelgasse
>> "Das Donauweibchen" gemacht von SchülerInnen der VS Zennerstraße für Sprachspiel Biennale West 2020
___________________________________________________________________________

MuKaTo Projects Films @ Prix Ars Electronica
Young Creatives u12 (Juryprice)
for the young filmmakers of "Das unmögliche Computerspiel" (ORG Antonkriegergasse)
https://calls.ars.electronica.art/prix/winners/8480/

screening @ Ars Electronica Festival: 8.-12.September 2021, Linz
jurystatement: https://ars.electronica.art/prix/de/winners/u19/#jurystatement
filmlink: https://www.youtube.com/watch?v=EZCNeWc5Xlw
___________________________________________________________________________
Videoletter - The Film
an audio-visual collage based on a d dialogue with Columbian artist Cecilé Traslavina
COMING SOON
___________________________________________________________________________
winding up the spring in Spring, experimental Film and Animation.
___________________________________________________________________________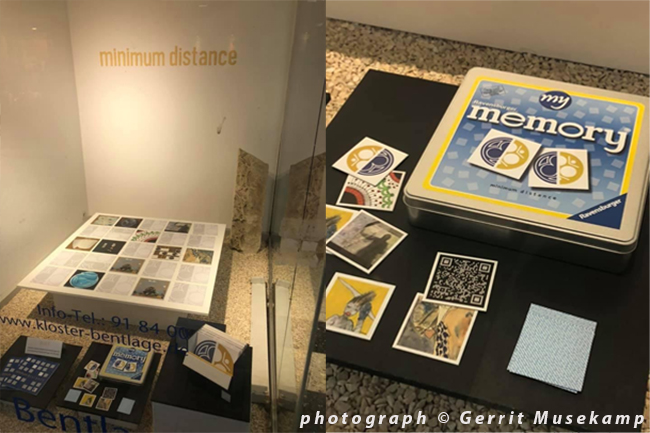 MINIMUM DISTANCE - Memory Card Game
produced by Ravensburger
curated by Jan-Christoph Tonigs and Ulla Francke
with images by: Alessia De Bortoli (I), Aristea Charoniti (GR), Ann Aspinwall (USA), Clara Buchmann-Stubbs (CH), Jan-Christoph Tonigs (D), Louis Reith (NL), Karoline Riha (AUT), Jutta Tonigs (D), Magdalena Margret Kjartansdóttir (ISL), Majella Clancy (IRL), Mari Girkelidze (GEO), Gerrit Musekamp (D), Max Tomasoni (D), Muzak (AUT), Rita Gaspar Vieira (PRT), Sandra Reyes (COL), Thanos Tsuousis (GR), Thomas Amerlynck (BE), Thomas Empl (D), Ulla Francke (D), Valgedur Hauskadottir (ISL), Cathrine Dahl &Orjan As (NOR)
available to play online: https://memory.druckvereinigung-bentlage.de/home
available as Ravensburger edition:
https://klloster-bentlage.de
https://druckvereinigung-bentlage.de
___________________________________________________________________________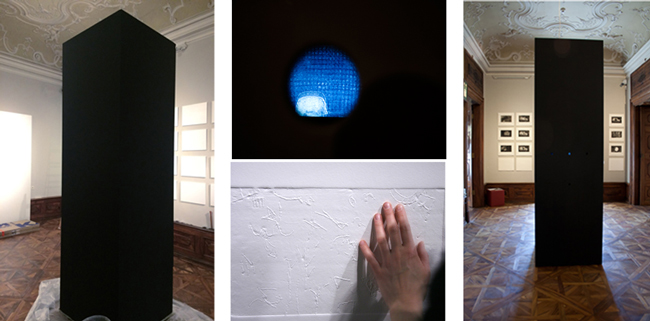 Nomination for the 2020 Fine Art Peace Award/ St. Leopold Friendenspreis der Bildenden Kunst
for Seen Unseen Scene (Muzak&Riha)

Der internationale Preis wird jährlich für soziales Engagement in der Bildenden Kunst vergeben.
Seen Unseen Scene von Muzak & Riha ist unter den 27 für den St. Leopold Friedenspreis nominierten Arbeiten.
The international prize is awarded annually for social commitment in the visual arts.
Seen Unseen Scene by Muzak & Riha is among the 27 works nominated for the St. Leopold Fine Art Peace Award.
https://www.stift-klosterneuburg.at/kunstpreis2020-finale/
Seen Unseen Scene wurde für das Rijksmuseum Twente (Niederlande) produziert und ist eine Filminstallation zum Tasten und Sehen, deren Bilder ausschließlich von blinden Menschen in Deutschland und Österreich gemacht wurden.
Muzak & Riha arbeiten partizipativ. Im lebendigen Prozess zwischen Künstlern, interessierten TeilnehmerInnen und dem Publikum versuchen sie neue Strategien, Formen und Wege in Produktion, Ausdruck und Präsentation zeitgenössischer Kunst zu finden.
Seen Unseen Scene was produced for the Rijksmuseum Twente (Netherlands) and is a film installation for touching and seeing, whose images were made exclusively by blind people in Germany and Austria.
Muzak & Riha work participative. In a lively process between artists, interested public and audience, they attempt to find new strategies, forms and means in production, expression and presentation of contemporary art.
exhibition until 15th of November 2021

Öffnungszeiten:
Sommersaison (bis 15.11)
täglich von 9.-18h
Wintersaison (siehe website des Stiftes)
https://www.stift-klosterneuburg.at/besuchen-und-erleben/informationen/
https://www.stift-klosterneuburg.at/press/st-leopold-friedenspreis-2020/
(due to the current situation there will be no official opening. For the opening hours please refer to the gallery website)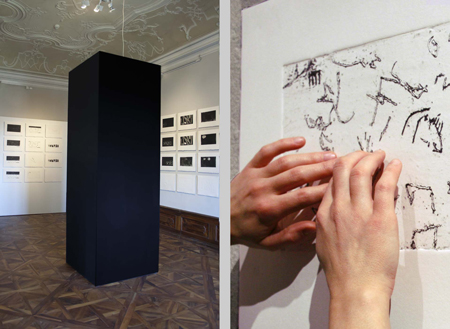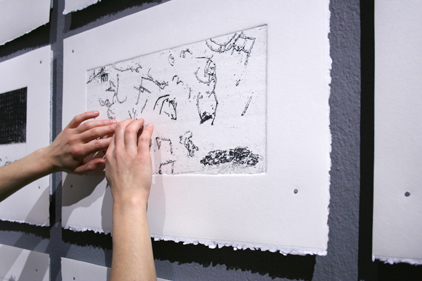 SEEN UNSEEN SCENE
experimentelle Film Installation / partizipatives Kunstprojekt von Muzak & Riha
Zusammen mit blinden Menschen hat das Künstlerduo Muzak & Riha einen Tastfilm realisiert.
Über 100 Bilder wurden ausnahmslos von den blinden TeilnehmerInnen gestaltet.
Um den blinden Menschen eine autonome, selbstbestimmte und reflexive Gestaltung zu ermöglichen, wurde von Muzak & Riha ein spezielles druckgrafisches Verfahren entwickelt. Die Bilder wurden zum vorab hergestellten Filmton assoziativ gefertigt und an jenen zeitlichen Augenblicken animiert, die von den blinden TeilnehmerInnen bestimmt wurden.
Erzählt wird die Geschichte von geflüchteten Menschen, die nicht sehen können, weil sie sich verstecken müssen und in Zeiten größter Not auf die Augen und die Hilfe anderer Menschen angewiesen sind.
Der entstandene Trickfilm bildet das Herzstück der Installation. Rund um den in sich gestülpten Kinoapparat mit Film und Sound sind die zentralen Filmbilder an den Ausstellungswänden präsentiert und dürfen berührt und ertastet werden.

In cooperation with blind people the artist duo Muzak & Riha realized a touch-film.
Over 100 images were modeled solemnly by blind participants.
In order for them to work autonomously, self-determined and reflexive within their image-production, Muzak & Riha developed a special procedure of creating printing blocks.The participants modeled their images associatively to a priorly edited film soundscape.
Later on those images were animated at the moments in time for which they were made for. The story told is of a group of displaced people on the run. They can´t see for they have to hide and hence in times of most need, have to rely on the eyes and help of others.
The Film forms the center-piece of the installation. Around this inverted cinematic apparatus the key film-images are presented and can be felt and touched.
Muzak & Riha
SEEN UNSEEN SCENE

Catalogue 2018


Herausgeber: Jan-Christoph Tonigs
Publisher: Verlag Edition Kloster Bentlage,
Authors: Jan-Christoph Tonigs, Dr.phil.Prof. Philipp Maurer, Dr. Tom Waibel
containg an original hand-printed graphic, including excerpts of the script
ISBN 978-3-939812-54-8
the realization of the initial project was kindly supported by:

Seen Unseen Scene / Muzak & Riha (excerpt)
___________________________________________________________________________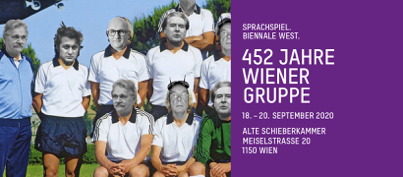 Im Rahmen der Sprachspiel Biennale West von 18. - 20. September 2020
freuen wir uns neben Mara Mattuschka, Valie Export, David Lynch, Wolfgang Glück/H.C. Artmann
3 Adaptionen der Altwiener Sage: "Das Donauweibchen" präsentieren zu dürfen.
Entstanden während eines MuKaTo Projektes in Kooperation mit Kindern der VS-Zennerstraße.
We are happy to present a MuKaTo Project with VS Zennerstraße. 3 short filmic-adaptions of "Das Donauweibchen" an old Viennese version of the Undine tale.
screening: Sonntag 20.09.2020 ab 15h
Gesamtprogramm auf 
https://www.sprachspiel.biennalewest.at 
https://www.facebook.com/biennalewest/ 
Filme können auf https://www.youtube.com/user/mukatochannel nachgesehen werden.
Newspaper Article: Kurier 16.09.2020
Newspaper Article online: online paper
___________________________________________________________________________
Prix Ars Electronica u10 Auszeichnung für die Jungfilmemacherinnen von
Der Vogel mit dem Coolen Hut
MuKaTo Projekt in Kooperation mit VS Kolonitzgasse
Ars Electronica Festival: 9.-13. September 2020
https://ars.electronica.art/news
Der Vogel mit dem Coolen Hut auf MuKaTo channel: https://m.youtube.com/watch?v=ez87TEK2N2w
___________________________________________________________________________
Karoline Riha // Muzak & Riha // MuKaTo